Iran's president has said his country will "proudly bypass" Donald Trump's "illegal" and "unjust" sanctions by selling oil – as he compared the US president to the former Iraqi dictator Saddam Hussein.
Hassan Rouhani, who also referred to the US as a "bullying power", made the announcement in a meeting with economists that was broadcast on state TV.
It comes as Iran kicked off its air defence war games across a vast swathe of the north of the country.
The Iranian president said: "America wanted to cut to zero Iran's oil sales … but we will continue to sell our oil… to break sanctions."
The US measures were imposed on Monday after the Trump administration pulled out of the Iran nuclear deal earlier this year.
Thousands of Iranian students chanted "death to America" in protests that took place on the eve of the sanctions, which target the country's vital oil, shipping and banking sectors.
Oil is a crucial source of hard currency for Iran's struggling economy.
US flags, an effigy of Uncle Sam and pictures of Donald Trump were set on fire in images broadcast on state TV.
The events were timed to coincide with the 39th anniversary of the seizure of the US embassy in Tehran.
Mr Trump's secretary of state Mike Pompeo has defended the sanctions and heralded them as the "toughest" ever put in place on the country.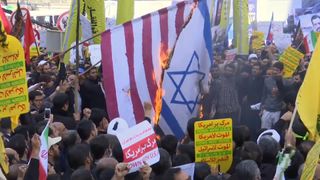 Iran was hit with its first round of measures in August.
Mr Rouhani said in the meeting on Monday: "I announce that we will proudly bypass your illegal, unjust sanctions because it's against international regulations.
"We are in the war situation.
"We are in a situation of economic war, confronting a bullying power.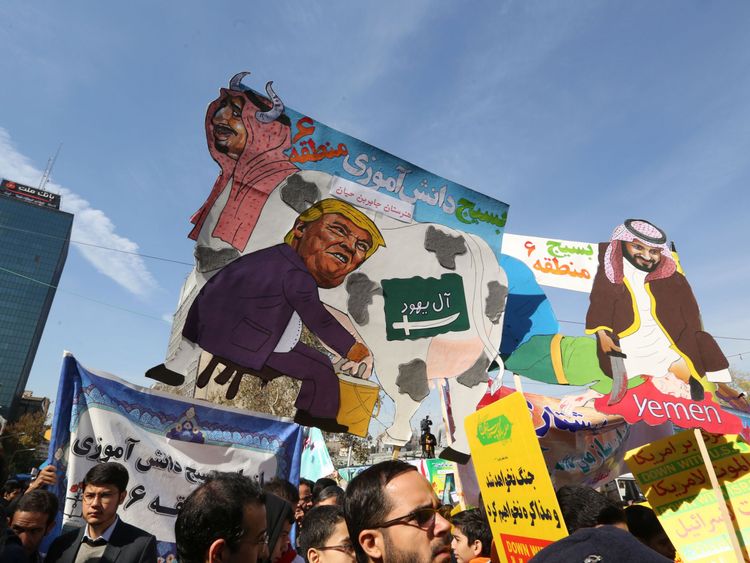 "I don't think that in the history of America, someone has entered the White House who is so against law and international conventions."
He added: "Yesterday, Saddam (Hussein) was in front us, today Trump is in front of us.
"There is no difference.
"We must resist and win."
Iran's Foreign Minister Mohammad Javad Zarif has said Tehran would consider diplomatic talks with the US if Washington changes its approach to discussing the nuclear deal.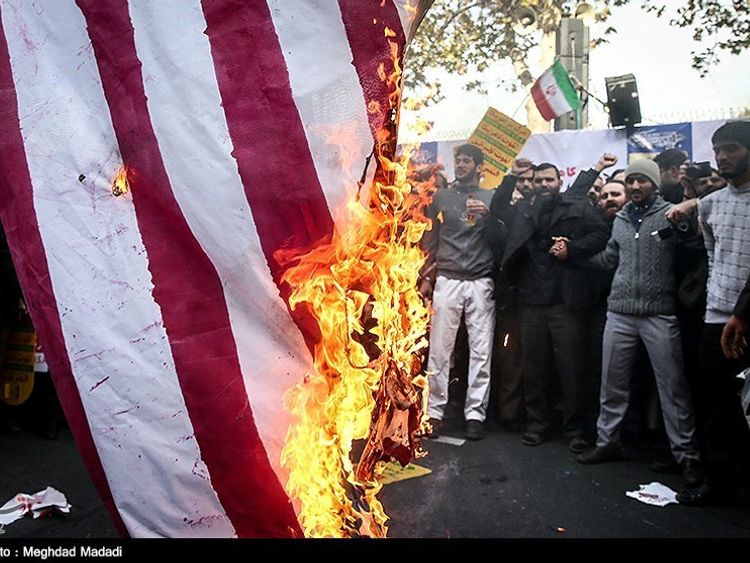 China's foreign ministry spokeswoman has said the country "regrets" the US decision to reimpose sanctions on Iran.
She added Beijing will continue to uphold the nuclear deal it agreed to as a permanent member of the United Nations Security Council.
A German government spokesman has said Berlin should be able to continue legal business relations with Iran.
He added that the country's government is looking at how to protect companies affected by the sanctions.
The Iran nuclear deal was drawn up by the Obama administration and was agreed to by the UK, Russia, France, China, Germany and the EU.
International financial and economic sanctions were lifted in return for Tehran curbing its disputed nuclear activity under UN surveillance.
Israel's defence minister has welcomed the newly-restored sanctions against Iran, saying they will deal a "critical blow" to the country's military presence around the Middle East.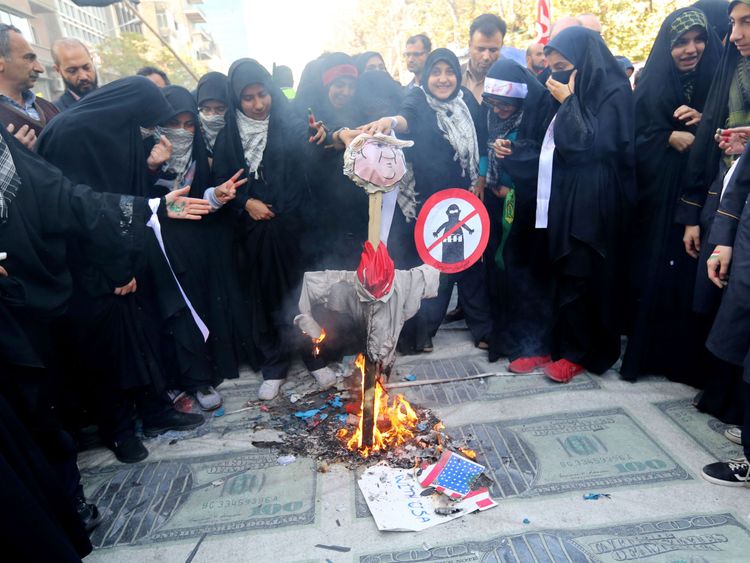 Iranian state television has aired footage of air defence systems and anti-aircraft batteries taking part in drills as part of two days of military manoeuvres.
Surface-to-air missiles could be seen shooting down a drone.
Iranian army General Habibillah Sayyari said both the national army and the country's paramilitary Revolutionary Guard were taking part in the drills.
The US president posted a Game of Thrones-style image on Twitter on Friday, which showed him striding in front of a moody grey background.
Mr Trump had the words "Sanctions are coming, November 5" across his chest.
The font was the same as that used in the hit TV drama and the wording is a riff on one of its famous lines "winter is coming".
Mr Rouhani has hit out at Mr Trump as the US prepares to vote in the midterm elections.
The US president, whose voter base backs a tough line on immigration, has said he is a finalising a plan for tougher entry for migrants.
The elections on 6 November are being seen by many as a referendum on Mr Trump's first two years in office.