Brett Kavanaugh's Supreme Court nomination has cleared an important hurdle – but only by a hair's breadth.
The Senate voted 51-49 to limit debate and to move on to the final vote, likely to take place this weekend.
If the vote had been defeated, his nomination process would have hit another delay in what has been a slowed down process after allegations of sexual assault were heard against the judge.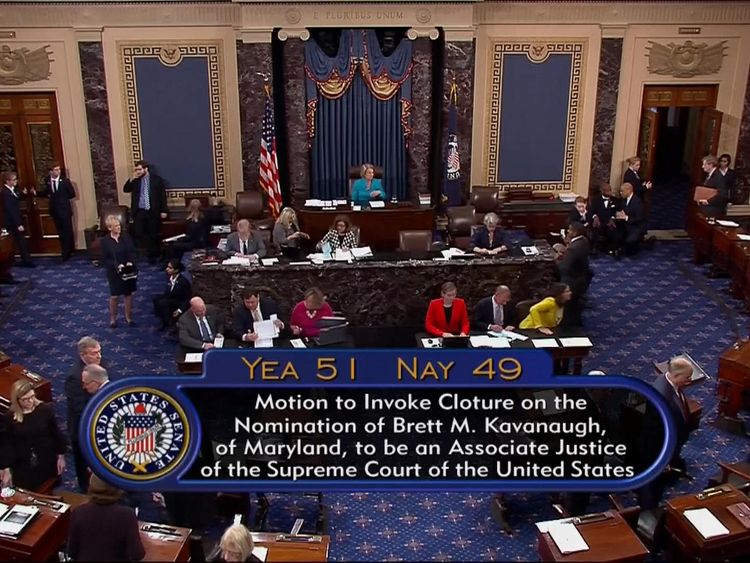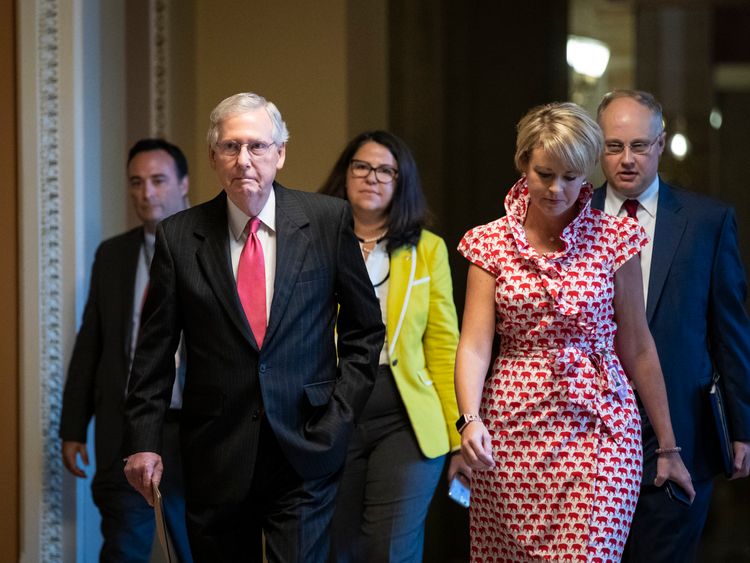 A simple majority was needed to move the process on.
President Donald Trump has backed Mr Kavanaugh and wants him to help tip the court to the right.
After the vote, he tweeted: "Very proud of the U.S. Senate for voting "YES" to advance the nomination of Judge Brett Kavanaugh!"
Very proud of the U.S. Senate for voting "YES" to advance the nomination of Judge Brett Kavanaugh!

— Donald J. Trump (@realDonaldTrump) October 5, 2018
The Republicans control the chamber 51-49.
To win, they needed every Republican to vote yes if all Democrats voted no.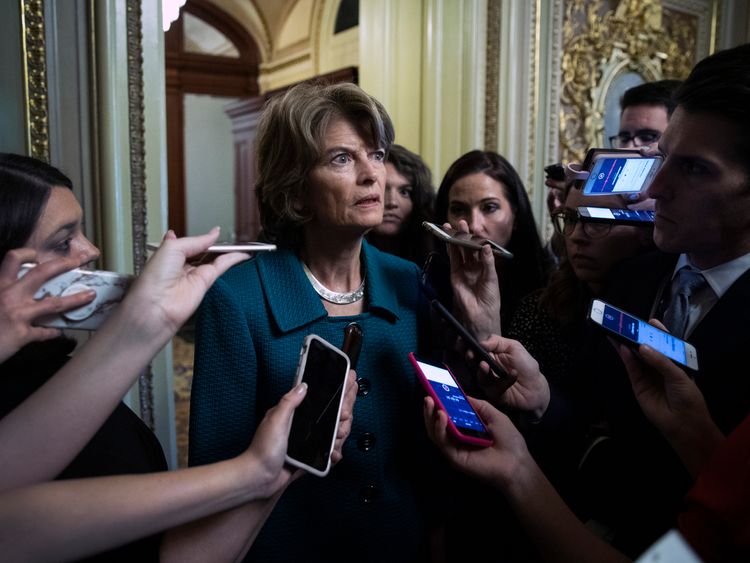 In the end, one Republican – Lisa Murkowski – voted to stop the nomination, while one Democrat – Joe Manchin – voted to send it further.
The votes of moderate Republican senators Susan Collins and Jeff Flake were closely watched.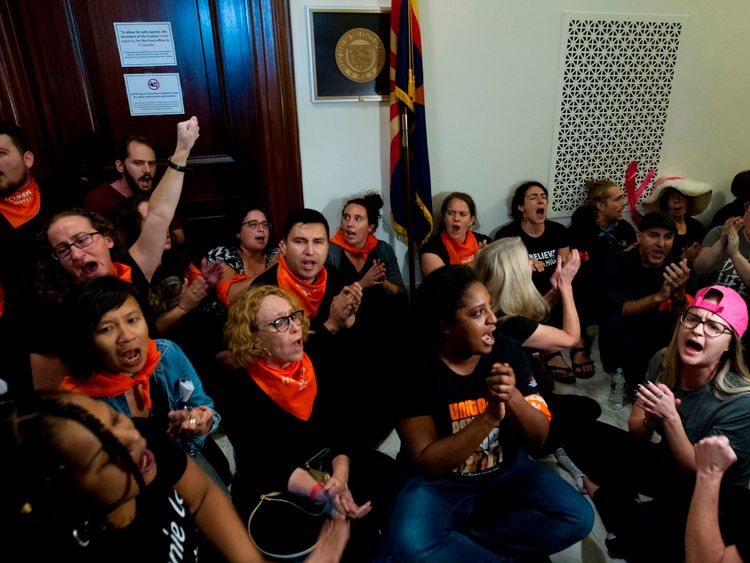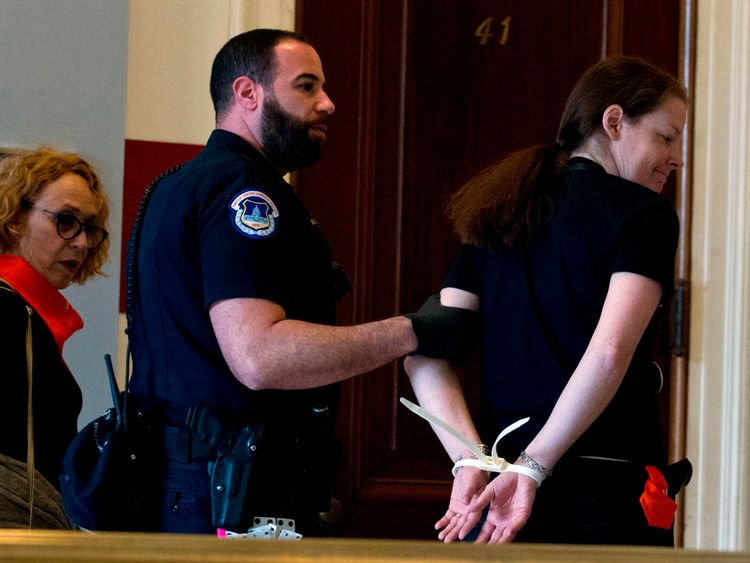 They voted yes, but as with all senators, they may vote differently in the final confirmation ballot.
It would be unusual for politicians to switch their votes on such a high-profile issue.
The progress of nominee Mr Kavanaugh, 53, has been slowed down after he was accused of sexual assault by professor Christine Blasey Ford.
Dr Ford gave evidence in front of a Senate judiciary committee that Mr Kavanaugh, then aged 17, sexually assaulted her when she was aged 15 in Maryland in 1982.
Two other women have accused Mr Kavanaugh – who denies any wrongdoing – of sexual misconduct in separate incidents in the 1980s.
As the president sent out his tweet, protesters stormed the corridors of the Senate building to demonstrate outside the offices of senators, including Republicans Mr Flake and Mitch McConnell.
Sit-ins were held by protesters who believe the women's accounts over Mr Kavanaugh's.
They were told by police they would be arrested as they shouted chants, including "this is for all survivors".
Footage shows some being led away in handcuffs by police in an echo of Thursday's protests which saw comedian Amy Schumer and model Emily Ratajkowski be detained alongside other demonstrators.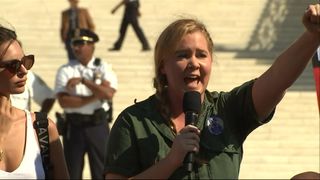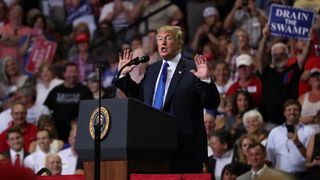 They protested after Mr Trump was criticised for imitating Dr Ford, who could not provide precise information about every aspect of the day of the alleged assault, at a rally in Mississippi.
The vote comes after the chairman of the Senate judiciary committee, Republican Chuck Grassley, said the FBI had found "no hint of misconduct" in its investigation into Mr Kavanaugh.
Democrats have complained that the FBI's reopening of its Kavanaugh background check has been far too limited, leaving out contact with crucial potential witnesses.
Several US media publications reported that witnesses who believe the FBI should interview them over the allegations feel like they have been silenced.